Spring Recital 2024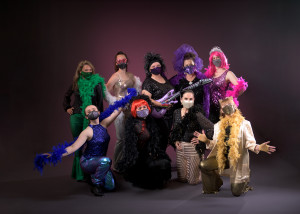 Recital Information
Performance is an important aspect of the dance education and we encourage participation in our spring recital. Many ongoing classes have an optional spring recital performance; please check the "classes" page for specific recital option availability. We also offer many technique-only options and we have students that take classes solely for class experience, so we do not require recital participation.  Therefore we do not automatically bill for a costume deposit or recital fee.  Please read on for further information on participation in our spring recital! Most classes dance in only one of the shows although some will perform in both shows. Each class's recital performance day will be posted early spring.
Costume Deposit: If you/your child would like to participate in our spring recital a $50 costume deposit (per costume) must be paid by November 1st.  We do not automatically bill for a costume deposit but we will send out an email reminder in the fall.  If we do not receive a costume deposit by November 1st we assume the dancer will not be participating in the recital and will not order a costume for the student.  Costumes, including tights and taxes generally run between $65 and $90 each. Any costume balance remaining (which is typically emailed out in the beginning of January) will be due on February 1st along with the $30 recital participation fee.  Each recital performance class in which a student is enrolled will generally have a separate costume.  We will take measurements for costumes at registration and costume orders are placed in December.  Costumes are made to order and cannot be exchanged or returned; refunds cannot be given.  Generally, if it is possible to secure a costume for students whose costume deposit is not made by November 1st, it will incur a surcharge for separate ordering, shipping and handling.  Costumes typically arrive in April but some may come in earlier or later.  Costumes are not sent home until your account is paid in full.
Account Balances: Account balances must be paid by May 1, 2024 in order for dancers to participate in the spring recital.
Backstage & Chaperones: All classes with younger students will have backstage chaperones. Chaperones are typically parents/guardians of students within the class or teen and adult students. Students and parents will meet the chaperones either at class approaching the recital and/or dress rehearsal. Parents other than designated chaperones are not allowed backstage due to space constraints. For the safety of our dancers, all dancers are required to stay backstage throughout the performance. No one is allowed to come out into the audience. On recital day please drop your child off at the stage door in costume and make-up. He or she will be met and checked in before moving to his/her class and chaperone. You will pick your child up at the front of the stage after the show. If you have any questions regarding how our backstage operations run please do not hesitate to reach out to the studio.
Graduating Seniors: Please notify us of any seniors graduating from high school so that they may be recognized after their last performance.
Filming the show: We do not allow cameras or video recording during the show; this includes the use of cell phones. Our recital is professionally recorded.  Families will receive a free digital link to the recital recording. DVD copies will be available for purchase.
Dress Rehearsal and Day of Show information
Dress rehearsals are TBA.  Dress rehearsal schedules will be posted in the spring. Dress rehearsals and the recitals will be held at the Collins Center for the Arts at UMO in Orono.
RECITAL DAY
Please bring your child to the stage door in costume and make-up. A chaperone or assistant will take your child to the dressing room and you are asked to go around to the main lobby entrance. Box office opens one hour prior to show time and doors open one half hour before show time. Please note that we have a reputation for starting our shows on time.
Pre-school students should arrive 30 minutes before curtain, dressed and in make-up. Students in only one routine should arrive 45 minutes before curtain. With the exception of Thomasettes and Pre-Thomasettes, all students in more than one routine should arrive 1 hour before curtain unless directed otherwise. Thomasettes and Pre-Thomasettes typically have an onstage call time of two hours prior to curtain for each show.
MAKE-UP: Younger dancers should wear lipstick and rouge plus light eye make-up if parents wish. In general younger dancers should wear hair pulled off the face and held together with neutral color elastic unless you have received other instruction from your teacher. Older students should wear full stage make-up.
FINAL BOWS – All dancers will come on stage for final bows at the end of the show. After the show younger dancers should be picked up on the stage at the front of the auditorium. Directions are given by TSD personnel at the conclusion of the show for this process.
Recital Photography: Recital photographs are taken during class time during the spring; please check the Calendar page for picture week dates .  We have found this to be the least disruptive way to schedule dance pictures for our families; it also allows our teachers to pose their students appropriately for portraits.  Most regular classes do not have class time during this week, and generally if they do it is foreshortened.  Dancers wishing to make up this class time may do so in an alternate class if they choose; please see our make-up class policy.  A schedule of which classes will have pictures, including date and time, will be posted in the spring along with a schedule of which classes will have regular class during "picture week."  Purchase of recital portraits is optional; we ask that all recital participants come for recital portraits even if you do not plan on purchasing packages as we like to have all participants in our group photos.
Recital DVDs: We do not allow cameras or video recording during the recitals; this includes the use of cell phones. Both shows will be professionally recorded and families will receive a free digital link to the recital recording. DVD copies will be available for purchase.  DVD orders may be placed at the studio in May.
Flower Service: For your convenience we typically offer a flower service with a local florist. You may order flowers for your dancer here at the studio in May and pick them up in the lobby of the recital venue at the show. Order forms will be available at the studio in May.